For Therapists'n Everyone!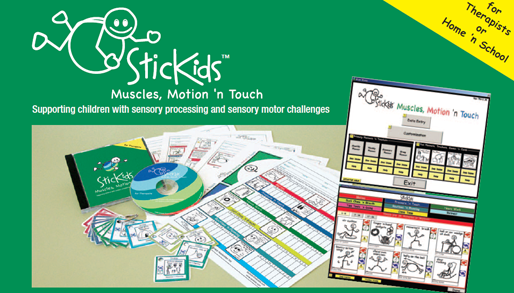 supports telehealth delivery
User friendly interactive software comes with 6 sample planners, activity key ring and quick start booklet.
STICKIDS™ is designed for children with sensory processing, sensory integration and motor challenges.
STICKIDS™ combines and uses various frameworks of:

Dr. Ayres' sensory integration clinical perspective
sensory modulation, self regulation, sensory diet
cognitive motor learning

STICKIDS™ benefits therapists, teachers, parents, child and everyone:

Easily create and print numerous individualized and customized color planners and activity cards.

8 types to choose from including Weekly, Summary, Monthly, Group and fun activity cards and games for a single child or many children. Over 125 fun STICKIDS™ pictures.
Select from categories / folders: Motion, Heavy Work, Pressure 'n Touch, Suck Chew 'n Breathe, Retreat, Routines 'n Planning, Tips Tools 'n Doing, and Clinic Time.

Allows extensive customization for therapeutic/ personal perspective and individual child's needs, and retains changes.
Affordable, user friendly and a time saver - save planners as a PDF, attach to reports, fax or email.
Promotes child participation to plan select and follow through during therapy sessions.
Suitable for toddlers to teens, and for mildly to severely effected children. Also presents as a wellness model with recent use with adults and also for mental health needs.
Offers methods to enhance "teaming" and extend therapeutic applications with teachers, parent and assistants.
Facilitates tracking progress and goals.
COMPUTER AND TECHNICAL DETAILS:
NEW - virutal load by our tech does not require disc and works on all PC Windows as well as Macs with Parallels or Bootcamp with Windows
Historically One STICKIDS disc is licensed for


a single user - original disc must be in to run
multiple users sharing 1 disc/ a single customization/ on a single computer - original disc must be in to run

Minimum requirements: Internal DVD drive ; Pentium 200, VGA 800x600, 64MB RAM, 200MB Disk Space. Windows 32 bit systems. Windows 10 andI 64 bit systems easily updatd with support memo included in Quickstart Booklet. 90 day technical guarantee and ongoing after sales technical support. Macs require Parallels orBootcamp and Windows.
Not supported for network or lab environments or net book
clinic sites with multiple users/ sites and each therapist with own customization - contact us for volume discounts and multi disc load instructions
BUY NOW - PLACE YOUR ORDER
Promotion offer "Save $20 plus shipping costs!" During Covid19 there is a greater demand for SticKids to deliver telehealth supports. Buy STICKIDS for $119.95 (plus shipping ) #1 below; PLUS the VIRTUAL LOAD for $60 (#2 below). Our tech will contact you within 1-2 days and have you up and running STICKIDS. You need to buy both and we will then REFUND you the shipping plus $20 due to the Covid19 challenges of our times. *note product is not shipped but received virtually / loaded to your computer with 2 year warranty (see below under #2 virtual load)
If you have challenges with the order system below email orders@stickids.com requesting "Covid Virtual Load Promotion" for $120+$60- $20 for total $160 US. you will recieve a PayPal invoice. Once paid we will setup your virtual load within 1-2 days)
Therapist Version FOR EVERYONE
1. $119.95 USD for USA & Overseas/Offshore orders; $109.95 USD for Canadian orders
To Order (You do not need to be a registered PayPal User. You can Checkout as a Guest):
2. Virtual load – do you have a computer without internal DVD drive or would prefer not to have the disc in to run ? If so for additional fee our SticKids technician will assist you with a remote "virtual load" .You must also buy / click product above for basic product then click this supplemental button to order the virtual load. Or if you bought product in the past please supply your product access code in comments section. Virtual load has 2 year warranty or 2 installs whichever is first. Reason for second install might be your change of computer.
$60 USD for all customers
To Order: This US & Offshore button may not be working momentarily. Press Canadian "Add to Cart "button instead.
3. Tech support fee - SticKids offers free tech support both indirect memos and direct virtual tech intervention as needed for 90 days from purchase to assist you with your first SticKids set up. There after most users resolve any minor challenges via downloading tech support pdf.
For detailed technical support open and print Tech Support PDF:

But after the 90 days - if formal online virtual tech support is desired or required then a fee of $25 US is required
Purchasing Policies: Order details
All orders are subject to acceptance by Community Therapy Associates Inc.
place via website paypal process, fax or mail manual form, or phone (1-403-650-0203)
Please supply clear, correct and complete mailing and billing address
For orders greater than 5 and related discounts, inquiries can be made at orders@stickids.com

Payment Methods:
Through the website - Paypal *promotional $20 refund and shipping refund will occur after order has been processed
By mail, fax or email – POs (Medical or Educational Institutes) use downloadable manual form. W8Ben number supplied as needed

Shipping Charges:
Canadian Destinations $5.00 USD per unit
Continental USA Destinations $17.00 USD per unit
Over Seas/Off shore Destination $23.00 USD per unit
Shipments will generally be made via Canadian and US Federal Postal Services
For orders over 5 and customized shipping, inquiries can be made at orders@stickids.com
STICKIDS is not subject to duty or taxes under NAFTA agreements but STICKIDS is not responsible for any additional import duties or brokerage fees which may be charged by your own Customs Service.

Privacy Policy:
CTA does not share or sell any customer information.

Returns/Damages:
Inspect your orders promptly for any damages or defects
If your shipment arrives damaged please contact us immediately so we can correct the situation
Prior authorization will be required for any returns. Authorized returns for technical reasons will be replaced free of charge, with the exception of shipping charges. Returns for merely non preferred product will be processed a 25% restocking fee.

Costs:
Full payment (including shipping charges) must be submitted with the order
GST will be added onto the purchase price for all Canadian orders (5%)
Prices may be subject to change without notice, including shipping rates.
Price per unit for: $119.95 USD per unit for USA & Offshore $109.95 USD per unit Canada

Warranty:
There is 90 day limited warranty and complemenatary tech support on STICKIDS disc from the date of shipment. CTA warrants that the CD on which the software is contained will be free from defect in materials and workmanship. This warranty does not cover damage caused by improper use or neglect. CTA does not warrant the contents of the software or that it will be error free.Contact CTA prior to returning product. There is a 2 year / 2 load warranty whichever is first on Virutal loads.
Inquiries:
If not desiring to order at this time but rather have product inquiries related to general product use or application contact stickids@stickids.com